Find Your Dumpster Rental Flushing
Reserving an affordable dumpster rental Flushing has never been easier than with Get Dumpster Deals. We are committed to offering affordable rentals and great customer service to the residents of Genesee County and surrounding areas. With our team, the process for booking a dumpster is quick, easy, and affordable.

As a reputable, family-owned and operated company, we know what it takes to get the job done right the first time. It's our goal to serve Flushing, Michigan and surrounding areas with unbeatable service, prices, and options. Dumpster Rental Flushing can be a hassle, but when you book with us we make it as convenient and carefree as possible. Our customer service staff is available to help with all your rental needs as we offer 24/7 emergency support.

Besides our dedicated customer service, we have various sizes of container options that make us stand out from all dumpster Flushing MI providers. Our dumpster sizing guide located on our website is just one of the many features we offer to help make your dumpster rental Flushing Michigan process smooth. With online ordering as simple as adding a dumpster to your cart, you can reserve your roll off from the comfort of your home anytime. Our success is based on our dedication to maintaining high standards in our day-to-day business practices. Find a dumpster rental Flushing with us today and find out just why customers choose us time and time again!
Various Uses for our Dumpster Rental Flushing Michigan
Whether this is your first time reserving a dumpster rental Flushing Michigan or you're a roll off pro, there are countless reasons to keep a trusted, reputable dumpster rental business on hand. We work closely with residential, commercial, construction, and roofing customers to help support a wide range of projects with our Flushing dumpster options.

Whether you're clearing out the garage of all the clutter or redesigning your landscaping, we're here to help with all of your dumpster rental Flushing Michigan needs. As our communities grow with new developments and the creation of more small businesses, we know our dumpster rentals Flushing MI will be of great use in the construction and roofing industries to keep job sites clean and waste-free.

We regularly partner with GFL Brent Run Landfill to ensure your waste is disposed of in a legal and safe manner. We abide by all city, county, and state regulations when getting rid of waste with our roll off dumpster Flushing MI.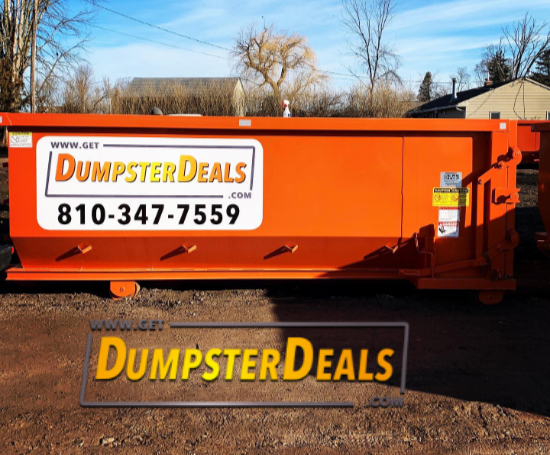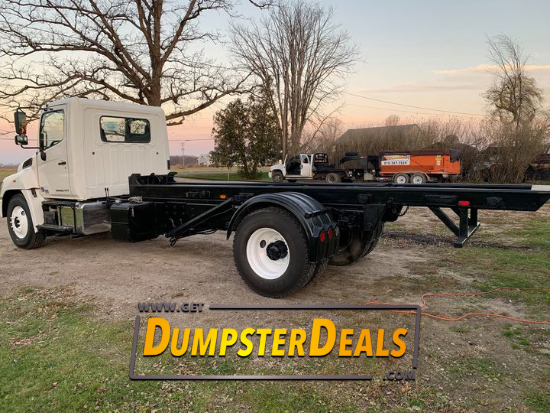 Reliable Residential Dumpster Rental Flushing
Genesee County residents choose Get Dumpster Deals as their go-to residential dumpster rental Flushing company because they know they can trust us. As the leading Flushing dumpster rental pros Flushing MI, we ensure our selections are affordable and our booking process is easy. You don't need a ton of trash disposal knowledge to work with us because we do all the work for you. Don't keep putting off those home projects because you don't know how to get rid of the trash - just leave it to us. If you're searching for a dumpster rental in Flushing, we have the perfect options for you.

Cleaning out the attic, downsizing to a more manageable living situation, or preparing for an estate sale can be time-consuming, stressful projects, but with the help of our experienced residential dumpster rental Flushing team, we're confident we'll help keep your project on track and on budget.

Your job is made easy with Dumpster Deals, the #1 team of dumpster professionals. All you have to do to get that home renovation or cleanout started is go online and book the residential dumpster rental Flushing MI you need. From there we deliver it and all you have to do is text us when you're done so we take it from there. Flushing residential dumpster rental is easy with us because we offer same-day, on-time delivery. Your property is important to us and we take the extra steps to protect your driveway. There is no need to worry about a mess afterward because we promise that your driveway will be clean and clear as we leave. Stop stressing and start booking your rental with us today!
Affordable Dumpster Rental Flushing MI for Yard Waste
Cleaning up the yard after a storm or before putting your house up for sale can feel impossible, but with the help of our affordable dumpster rental Flushing MI options, your next outdoor project will be a breeze.

Our 10 and 15 yard Flushing MI roll off dumpster options are great for collecting debris and brush in your yard, redesigning your landscaping, clearing out the flower beds, or working on patio renovation or repair. Whatever your outdoor waste management needs are, we guarantee our affordable dumpster rental Flushing MI options will suit your project, budget, and timeline.

Get in touch with our team today by messaging us through our website, giving us a call at (810) 347-7559, or book your roll off dumpster online today!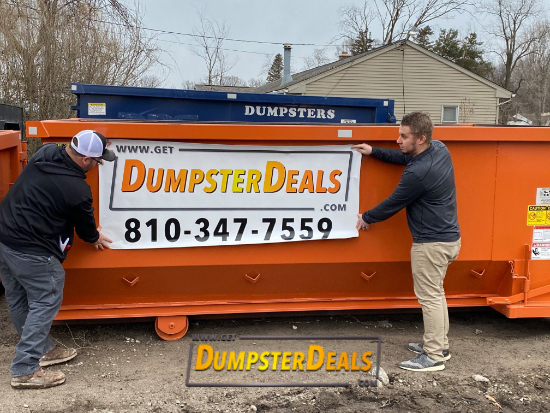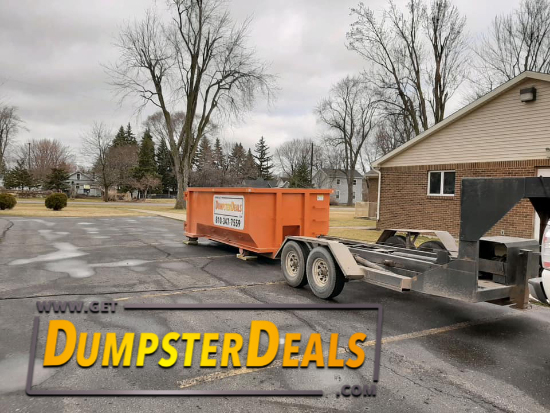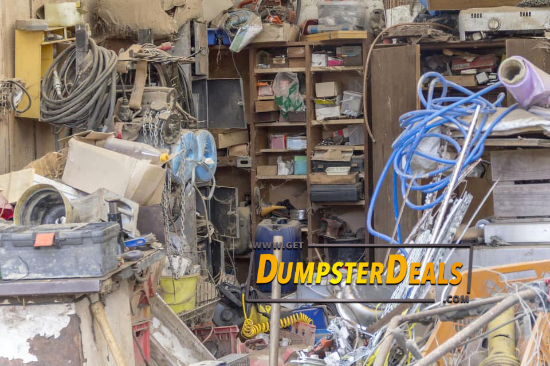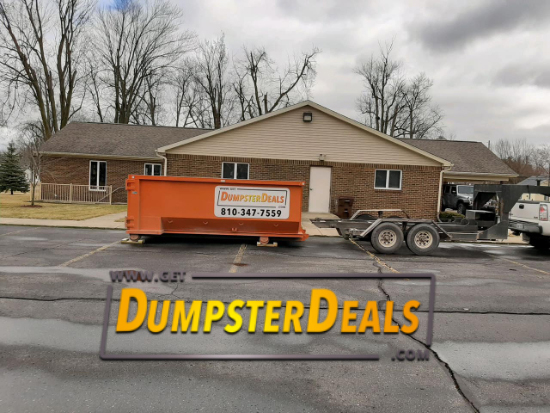 Best Construction Dumpster Rental Flushing MI
Construction sites can be a hassle when trying to dispose of waste, which is where our 5-star reviewed construction dumpster rental Flushing MI company comes into play. With bulky, heavy, and large materials lying around, you need a safe and reliable roll off dumpster company to help make your project efficient and affordable. Get Dumpster Deals can offer you affordable prices and reliable dumpsters for Flushing MI construction dumpster rental needs.

Looking for a large Flushing construction dumpster rental? Look no further than Get Dumpster Deals. There's no need to worry about not being able to fit your materials because our range of container sizes are certain to meet the needs of your job site. We make Construction dumpster rental Flushing convenient with easy online ordering and pick-up services. We understand construction projects are time-consuming which is why we are here to help unburden your workload and schedule. We want to get your project streamlined by offering our affordable dumpsters Flushing Michigan today!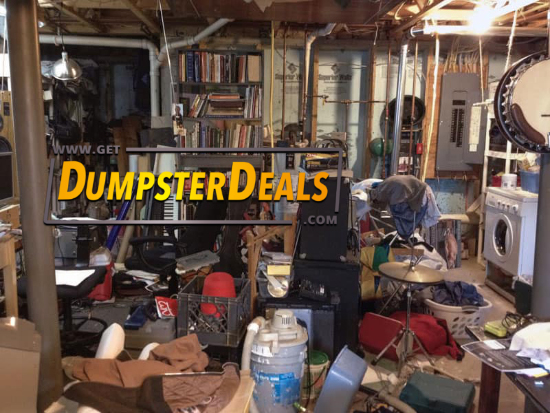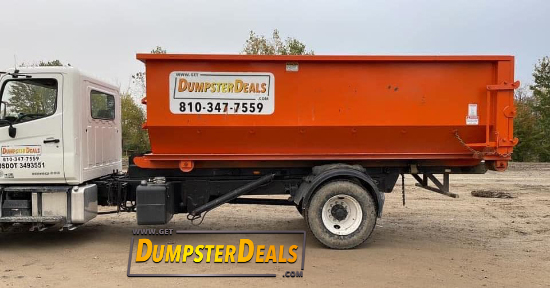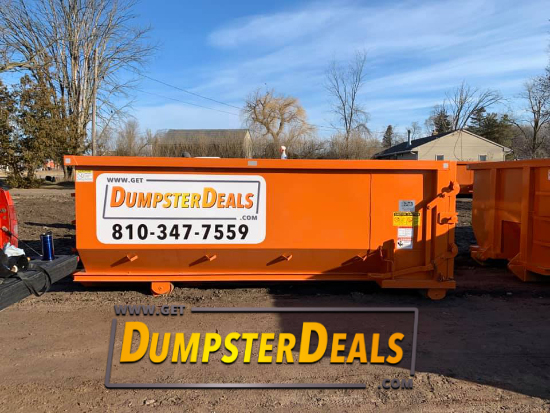 Roofing Roll Off Dumpsters Flushing
For all of your roofing waste removal needs, our roll off dumpsters Flushing options are certain to help. Built to handle a wide variety of roofing materials, we're confident our containers will help you get the job done in a timely and affordable manner.

We carry a wide variety of size selections of our premium, durable, cost-effective roll off dumpsters Flushing options that are built to manage a wide variety of roofing materials, including shingles, wood, plastic, asphalt, plastic, and more. Whatever your personal or professional needs are, we have the dumpster rental Flushing, MI for the job.

Whether you're repairing the roof of a property you own, replacing a roof altogether, or are a contractor looking for an ongoing Flushing roll off dumpster rental partnership, our team of experts is here to support your short or long-term dumpster rental needs.
Commercial Roll Off Dumpster Rental Flushing
It's a fact of life that businesses and public spaces accumulate lots of waste, which is why our roll off dumpster rental Flushing options are a must-have for small business owners and managers. Whether you own a business and are seeking ongoing waste management support or just need a one-time haul off, our team of professionals is here to help.

We offer a wide variety of garbage dumpster Flushing MI sizes so that the needs of your business or office space can be met properly, no matter the scale of the project. Our experts are here to help guide you through the rental process every step of the way. If you have any questions about the best Flushing MI garbage dumpster for your commercial needs, get in touch with us through our website, give us a call at (810) 347-7559, or book your container online today!
How to Book a Dumpster Rental Flushing MI
Booking your dumpster rental Flushing MI is as easy as one, two, three! Browse our online inventory of container size options, find the best choice for your project, click the yellow "Add to Cart" button, choose your drop off and pick up dates, fill in pertinent contact information, then check out! When you're ready to rent a roll off dumpster Flushing, book online or get in touch with our team.

If you're not sure which dumpster Flushing is the best fit for your project, get in touch with us to discuss specifics or view our sizing guide below. We're confident we carry the perfect container for your waste hauling needs, whether they're residential, commercial, or construction-related.

Don't waste any more time searching for the perfect garbage dumpster Flushing when our team of professionals is ready to make your life or job easier with our wide range of selections. Use our convenient online booking tool to reserve your container today or give us a call at (810) 347-7559 if you have any questions about your dumpster rental Flushing MI options!
Picking the Right Size to Rent a Dumpster Flushing MI
Get Dumpster Deals is the right place to find the perfect size to rent a dumpster Flushing MI. When we say there is no project too big or too small for us, we mean it! We have various budget dumpster Flushing Michigan options to choose from and we can guarantee one of them will fit the role of your job. Besides providing a dumpster sizing guide to help you find the perfect fit, our customer service is always available to answer any questions you may have. We go above and beyond to help our customers in any way possible during your search for a Flushing roll off dumpster.

We offer four sizes of roll off dumpster Flushing rentals that will easily accommodate all of your disposal needs. Our 10 yard dumpster, starting at a low price of $350, is perfect for those medium size cleanouts. If you are working on a yard or house cleanup or small remodeling projects, the 10 yard dumpster rental in Flushing Michigan will be convenient for your project. The capacity of this dumpster is equivalent to 6 pick-up truckloads, allowing you lots of room to remove a ton of junk at once. This is the perfect small dumpsters in Flushing, MI option!

If you are getting rid of bulky, heavy, and large materials, we have the perfect 15 yard dumpster for you! This 15 yard Flushing MI roll off dumpster rental is big enough to hold 8 pick-up truckloads and provides a lot of space for disposal at an affordable price starting at $400. If you are planning a bathroom renovation or full garage and attic cleanouts, this is the dumpster rental Flushing, MI for you.

Bigger is always better, especially when it comes to Flushing garbage dumpster options for construction, demolition, and roofing jobs! Our massive 20 yard dumpster is our largest dumpster starting out at $450. This affordable deal is one of the best of all Flushing MI dumpster rental options. This dumpster is equipped to handle anything such as bigger remodeling projects or commercial cleanouts. With a capacity equivalent to 8 pick-up truckloads, we can guarantee this dumpster can handle anything.

Lastly, our 30 yard dumpsters Flushing MI, the largest container we carry, is the perfect fit for larger construction or commercial site projects. Ranging from demolition to roofing replacement to housing development, our 30 yard dumpster is a local contractor favorite.

Get in touch with us today by giving us a call at (810) 347-7559 or reserve your roll off dumpster rental Flushing MI online using our convenient booking tool!
Dumpster Rental Prices Flushing, MI and FAQs
We understand there are many factors to consider including dumpster rental prices Flushing, MI and other factors for your budget, project, and timeframe, which is why we've compiled a convenient list of frequently asked questions for you to peruse to help guide you through the rental process.

1) How much does it cost to rent dumpsters?

If you're looking for dumpster rental prices Flushing MI, we're happy to report we have affordable options for every size and scale of project. Our smallest 10 yard container begins at $315 for a 7-day rental, including 2 tons. It's easily our most popular rental and works for a wide scope of projects. We understand customers might be searching for a cheap dumpster rental Flushing MI, but not only do we offer affordable options, we guarantee amazing customer support and ontime delivery.

While we can't guarantee we're the absolute cheapest small dumpster hire Flushing Michigan, we do guarantee quality service, versatile options, and competitive pricing. Our prices vary depending on the size of the container, the rental time frame, and the tonnage being hauled. We're flexible with scheduling and here to help you through every step of the process!

2) Which size dumpster do I need for my project?

Depending on how much you're planning on hauling off, our range of small dumpster rental in Flushing MI options to larger 30-yard roll offs will do the trick. We recommend our 10 and 15 yard options for residential and smaller commercial projects, while our larger 20 and 30 yard containers are best suited for major sites like demolition and construction. If you're not sure about your specific situation or which Flushing dumpster rental is best for your project, give us a call at (810) 347-7559 to go over your options today!

3) How do I book a container with you?

When you're ready to rent dumpsters in Flushing MI, we offer convenient, easy options for booking. Use our online scheduling tool to browse dumpsters and book online, just like shopping with your favorite online retailers! If you have any questions or aren't sure which container is the best fit for you, you're always welcome to give us a call at (810) 347-7559 to discuss your options and get your container booked today.

4) What can be put in the dumpster?

If you've been searching can mattress be put in dumpster, Flushing MI, you've come to the right place. We accept a wide range of waste while adhering to all protocols. We cannot accept hazardous waste. If you have any specific questions about the materials you're hauling, give us a call at (810) 347-7559.
Providing Flushing Dumpster Rental to Surrounding Areas
Why do Genesee County residents and surrounding areas choose us for their Flushing dumpster rental services? Simple, because we care! In Genesee County, the main zip codes we service are 48502, 48503, 48504, 48505, 48506, 48507, 48509, 48519, 48529, and 48532. If you don't see your service area listed, don't lose hope just yet. We also service surrounding cities such as Flint, Grand Blanc, Swartz Creek, and Saginaw.

We take pride in keeping our communities waste-free and beautiful. We've partnered with residents, homeowners, contractors, business owners, and Flushing City School District to help manage all of their waste disposal needs. Give us a call if you don't see your city and we might be able to accommodate you!

Renting a dumpster with Dumpster Deals is convenient and affordable. We offer various ways to contact us to begin your dumpster rentals Flushing Michigan. You can give us a call at (810) 347-7559 to start booking or just follow the simple online ordering process. With our online ordering, all you have to do is use the dumpster sizing guide to determine which dumpster is right for you, add it to your cart, choose the dates of your service and complete the rental! Need a little more help? Not a problem! You can also use our contact form on our website and write us a message and we will get back to you in no time.

We make renting dumpsters Flushing a simple and straightforward process so you can focus on the task at hand. When you're ready to reserve your Flushing dumpster rental, call the experts at Get Dumpster Deals!
What Customers Have to Say About our Dumpster Rental in Flushing MI
We're proud to serve our surrounding communities with exceptional dumpster rental in Flushing MI! We take pride in our dedication to our customers and we love when they share with us their great experiences with Get Dumpster Deals. We are the #1 source for dumpster rentals near Flushing MI because our customers trust us and know that we have their best interests at heart.

It's easy to rent a dumpster Flushing with the friendly, reliable team at Get Dumpster Deals. Below are just a few comments on why people choose us for their dumpster rental in Flushing MI needs:
We Take Just About Everything
Some examples of the junk we haul away include
Refrigerator Disposal

Garbage Removal

Mattress Disposal

Foreclosure Clean Outs
Construction Waste Removal

Yard Waste Removal

Trash Removal

Appliance Removal
Television Disposal & Recycling

Furniture Removal

E-Waste Disposal

Hot Tub Disposal